Dior has always been extremely fond of the Versailles Palace, where it had become the backdrop of many of its commercials, from J'Adore Dior to the magical Secret Garden series. And what's not to love? With it's smooth mural-covered walls and intricate architecture sprinkled with copious amounts of French glamour not to mention the famous well-trimmed gardens that surround the palace, Versailles has captured the hearts of so many around the globe as the epitome of French luxury. For the last two years, Dior has made the Versailles the home to its Secret Garden mini-series, portraying the elusive yet elegant Dior woman wandering around the palace grounds in nothing less than the latest pieces from the house.
This year, we are whisked away once again to the Château in Paris for more Dior fabulosity : the long-awaited third instalment of the Secret Garden campaign, shot again by fashion's famed duo Inez and Vinoodh. Inspired by the Three Graces of Antiquity, muses Daria Strokous, Fei Fei Sun and Katlin Aas embody the young contemporary woman while evoking "three different facets of joyous feminity". Dressed in the rich colours of pre-fall 2014, the models take a tour through the ornate corridors of the Palais swept up in a thrilling rush, dashing through luxurious pathways and weaving through perfectly manicured hedges.
With the palace's many hidden doors and secret shelters, the Versailles gives an air of mystique to this surreal escapade.Set to Depeche Mode's "Strangelove", Daria Strokous saunters down the hallway switching from sensual nude lingerie to modern eveningwear and in true Dior fashion, elegant in a little black dress paired with a Diorissimo bag, all in the time of one second flat. Like a fairytale with a twist, she discovers a secret passage while frolicking through the
multicolor successions of doors t
hat leads her to the palace's vast orangerie. The trio of models then meet in the geometric Gardens of Versailles lavishly draped in Raf Simon designed Dior surround a CD branded floral display before closing the door on Versailles.
Everything in the film was what it was meant to be : majestic yet dreamy and impossibly magical. The rich colours and fabrics of the palace and the collection complemented the stunning Versailles set, while the film shows us parts of the Versailles that aren't open to the everyday visitor. And who wouldn't want to be the elegant alluring and utterly luxurious Dior girl?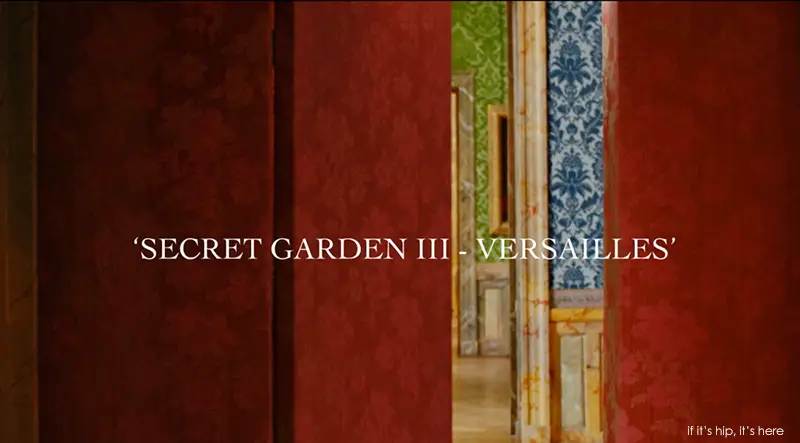 What do you think of the campaign?