While flipping through the July issue of
Seventeen
(I'm a faithful reader) on a balmy Sunday afternoon, I stopped short as an ad caught my eye. Three girls decked out in purple frocks of different shades from dark purple to lilac and chunky statement accessories, with their hair whipping in the wind. And there it was in bold sharp lettering : " Be Jeweled : Vera Wang " and suddenly it was like I've gone to
parfum
heaven.
I have always been a huge fan of Vera Wang perfumes, not only are the names super girly and beyond glamorous and luxe, it also never fails to make me sigh and dream about what it is like to live a
fairytale
, whether is it being a princess or being able to live in a super
luxurious
apartment in New York and being able to shop at say Barneys, Chanel or Tiffany's all day! "
When it comes to fashion, you bow to no one. The kingdon you call your closet is the envy of the land. Face it : You were born to rule.
" Take the
Vera Wang Princess
for example, it's "Born To Rule" tagline makes me conjour a lifestyle of utter fabulous-ness (is there even such a word?).You get breakfast in bed, meals at exclusive restaurants, salespeople of luxe labels at your every beck and call, exotic vacations to places like
St.Barts
and Paris, a massive walk-in wardrobe of couture and
Hermes Birkins
, endless amounts of money to splurge on the latest It, I could go on forever. *Sigh*, who wouldn't want that? Even the bottle itself, with its purple tones and gold crown, looks like it's made for royalty.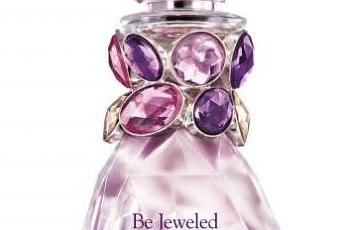 And now the latest of her concoctions, the enchanting and flirtatious
Vera Wang Be Jeweled
captures "
the energy and excitement of the perfect girls' night out
" (as you can tell from the gorgeous ad) and Vera Wang believes that "
each girl is a jewel in her own right, exuding confidence and charm
". Isn't that the kind of girl everyone dreams of being, all chic, classy and
glamorous
? Eye-catching and gem-like in pink and purple tones, the bottle is inspired by Vera Wang's flamboyant design aesthetic and is perfect for any girl who loves fashion and is not afraid to
dream
. Note to self : Add Vera Wang Be Jeweled to wishlist.
What do you think of Vera Wang perfumes? Which one is your favourite? What do you think about the taglines? What is your favourite perfume(s)?
P.S. Reached 100 followers on
Twitter
today, thank you all for your support!
Charlotte